Word On The Street #100
For the fun foodies..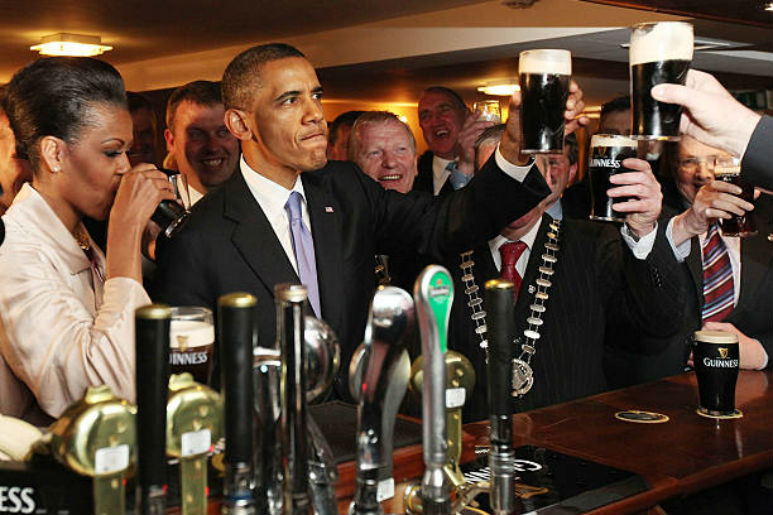 From Ireland to America and back to Australia, this weeks Word On The Street fly's us here, there and everywhere, only stopping to stuff our beaks. As you probably know, we're completely food obsessed and plan our lives around when and where to have our next meal. We're taking our taste buds on a mini vaycay throughout the duration of March and April, indulging in the best bites from Europe, the U.S and of course, Australia. Jump on board and join us on our next culinary journey..
It's time to don your favourite green outfit 'cause it's St Paddy's Day! Catch the luck of the Irish at the inaugural Paddyfest, held at the Eagle Farm Race Club this March 17. The event will be the largest of it's kind and promises good beer, great craic, with stand-up comedian, Jimeoin starring as the headline act. Irish favourites, Guinness, Magners Irish Cider and Bailey's Irish Cream will be flowing into the night, and there'll be plenty to nibble on with multiple food trucks dishing up tasty bites. So, stock up on those shamrock tattoos - this is one festival you don't want to miss. Celebrations kick off at 11 am.
The yanks are slowly taking over Eagle Lane, and we're totally okay with it. The gang from Brooklyn Standard have recently brought us Brisbane's first American sports bar, Fat Angel Sports Bar & Grill. Unlike it's bluesy, underground older sibling, Fat Angel blasts sports direct from the U.S over eight massive screens, midday to midnight from Monday to Sunday. It boasts a sports-bar snack style menu featuring bites like popcorn shrimp, wings, burgers and cheesesteaks. Get ready to rumble, doors opened late last week!
One of the tastiest steakhouse's in Brisbane has recently announced they're moving! Gambaro's Black Hide have decided to pack up shop on Caxton Street and join the glamorous gang at Treasury Brisbane. They'll still be dishing up world-class steak and succulent seafood, just in a newly renovated space over looking the Brisbane river. Think cutting-edge design mixed with worldly charm and sophistication. You'll discover a new love affair with food once the restaurant opens, expected by mid-2018.
Did someone say micro-pub? Post Office Square is about to become a little cooler with the addition of Isles Lane set to open mid-April. The new bar and eatery is situated (you guessed it) on Post Office Square's Isles Lane, right adjacent to the park. This allows natural light and greenery inwards, creating a modern and fresh vibe. Leave the packed lunches at home because this menu is seriously drool-worthy. Dishes like spicy fried school prawns with burnt lemon aioli, whole suckling pig and their signature, lobster roll, will leave you licking your plate clean. Why not sneak in a few cheeky beverages while your at it? Isles Lane will be open from breakfast until late and is set to open their doors mid-April.
Brisbane Street Art Festival is a city-wide outdoor public art event that aims to provide opportunities creative beings and wider community to engage, collaborate and develop positive partnerships. The two week festival encourages any and all art forms to participate, offering opportunities for the public to engage with some of the incredible creative talent that Australia has to offer across multiple sites and venues in Brisbane. BSAF will include live mural art, music, theatre, light shows, numerous exhibitions, creative master classes, workshops and multiple public forums from some of world's leading creatives offering a diverse program of learning, development, collaboration and fun. Take a walk on the wild side this March 31 to April 15.


About the Author

Coffee addict, blogger and full-time foodie, Christie Smith is an amateur photographer, lover of wine and social butterfly. Her creativity came at a young age but really started to bloom whilst living abroad.
Desperately trying to escape the chilly conditions of London, Christie found herself seeking refuge in many unique, bars and cafes hidden throughout 'foggy town'. As the camera roll started to fill, so did her desire to share her experiences with the world, thus leading to blogging. Christie is never one to decline happy hour invitations, brunch dates or Saturday morning market-hopping with the girls!