Voodoo Bacon
It's Bacon Me Crazy!
I grew up in the U.S. South and my first memory of my mom cooking was the delicious aroma of bacon being cooked in a cast iron skillet in the morning for breakfast. It is normal there to save the bacon fat afterwards. This is used to cook other things later in the day or week. My mom would add it to the oil she used to cook her fried chicken. She would also use it for the base of her chicken gravy. I think this is what started my love for bacon. A love that has now led me to become a bacon artisan.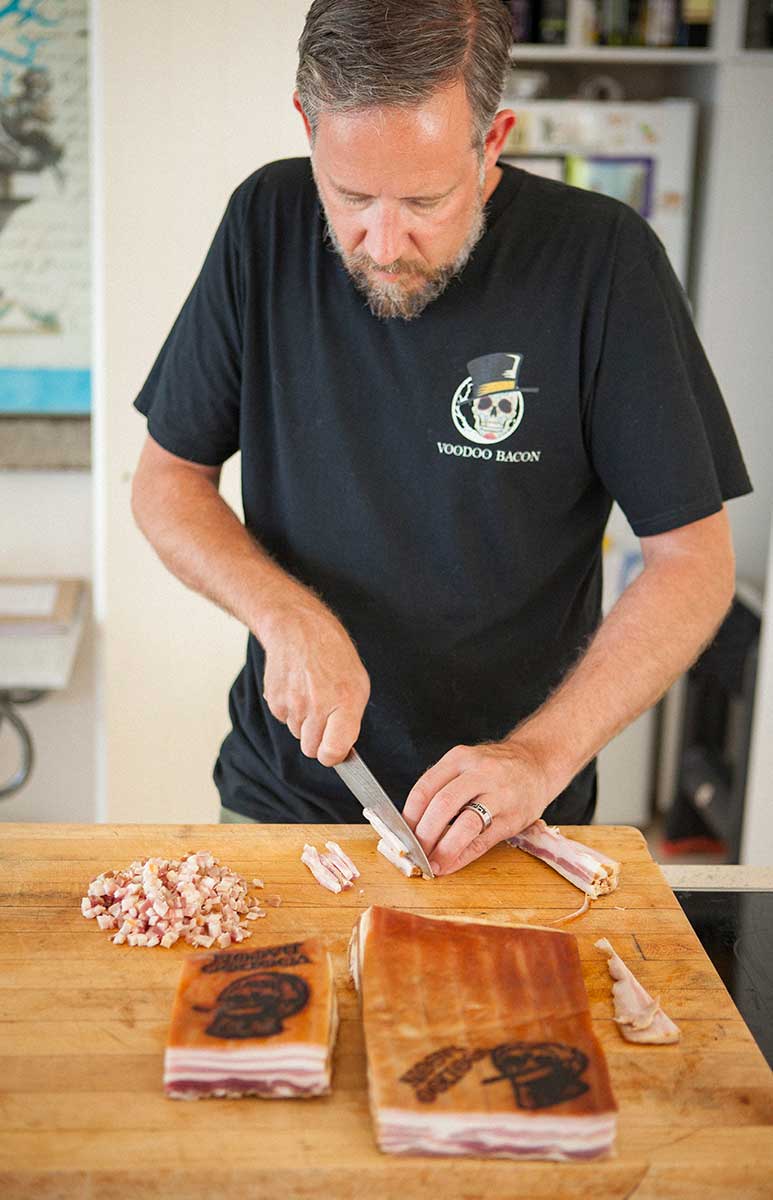 What is a bacon artisan? I like to compare myself to a cheese maker. In the same way a cheese maker will source the best milk from the best cows that only eat the best grass and then create his cheese. I source the best centre cut pork belly. Not too lean, free range, 100% Australian and local to my smokehouse, all from South East Queensland. I use this and a secret combination of organic herbs and spices to dry cure pork belly that will later become Voodoo Bacon. After a few weeks, I remove the pork from the cure and then smoke it naturally with apple-wood. I don't use any nitrates, nitrites, liquid smoke or anything that isn't 100% natural. I don't even use celery salt. Celery salt is sometimes used to add nitrates to other bacon claiming to be "nitrate free". Voodoo Bacon is made the old-fashioned way. This is the way sailors were able to travel the world before refrigeration and how pioneers and explorers were able to get to the farthest reaches of certain continents. This method of preserving pork belly helped enable the colonisation of the world.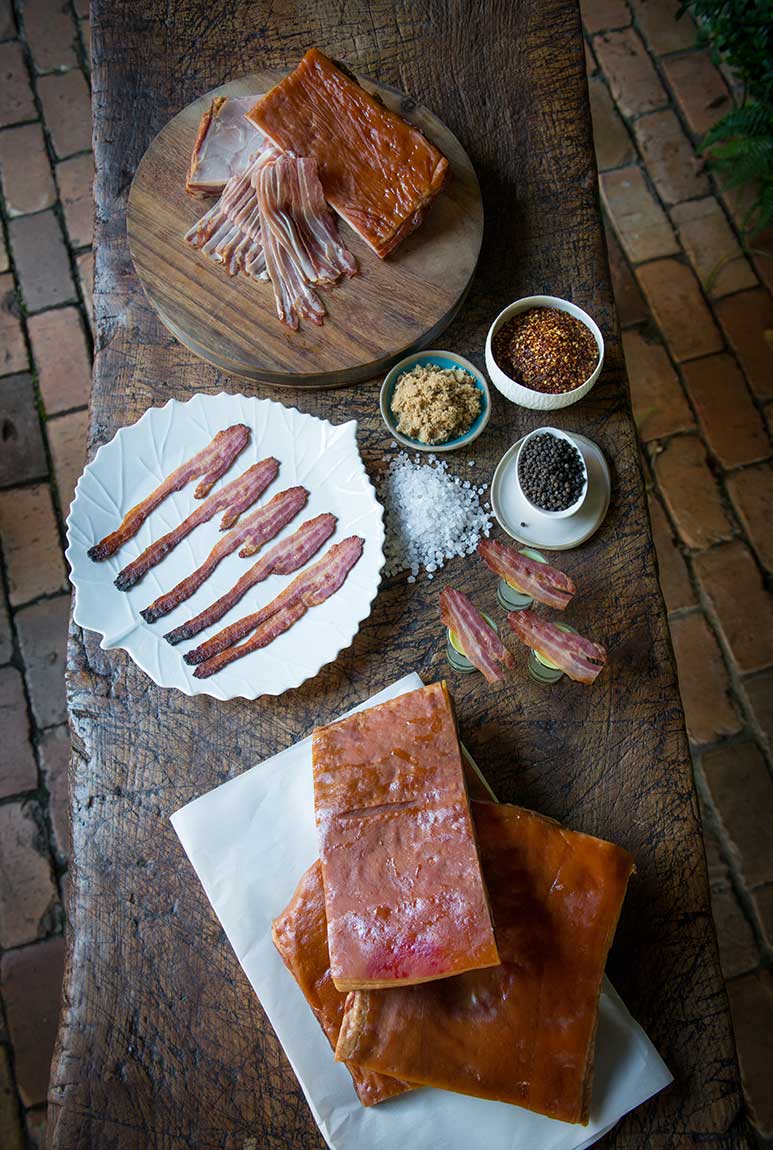 Due to the fact that I make Voodoo Bacon this old-fashioned way, it is a different product than most bacon consumers are used to these days. Dry curing and smoking pork belly reduces the weight of the pork belly by removing water. This intensifies the flavour but also costs more due to the loss in original weight. The modern way of making bacon is to wet cure the pork which adds weight. The usual way of smoking bacon commercially these days is to brush it with liquid smoke which also adds weight to the original pork. Nitrates are added to preserve the water packed wet cured pork. The reason dry cured bacon is preserved without nitrates is because of the loss of water in the pork. The modern way of bacon making is much more profitable than the old dry cured smoked bacon. Making cheese in a factory is also much more profitable than making cheese by hand but the taste difference is worth it. The same is true with bacon.
Before you even open the package of Voodoo Bacon you can smell the difference. I have had three mail shipments of Voodoo Bacon go missing in less than one month. I am sure it is because someone can smell it and can't keep their hands off of it. Voodoo Bacon is impossible to resist.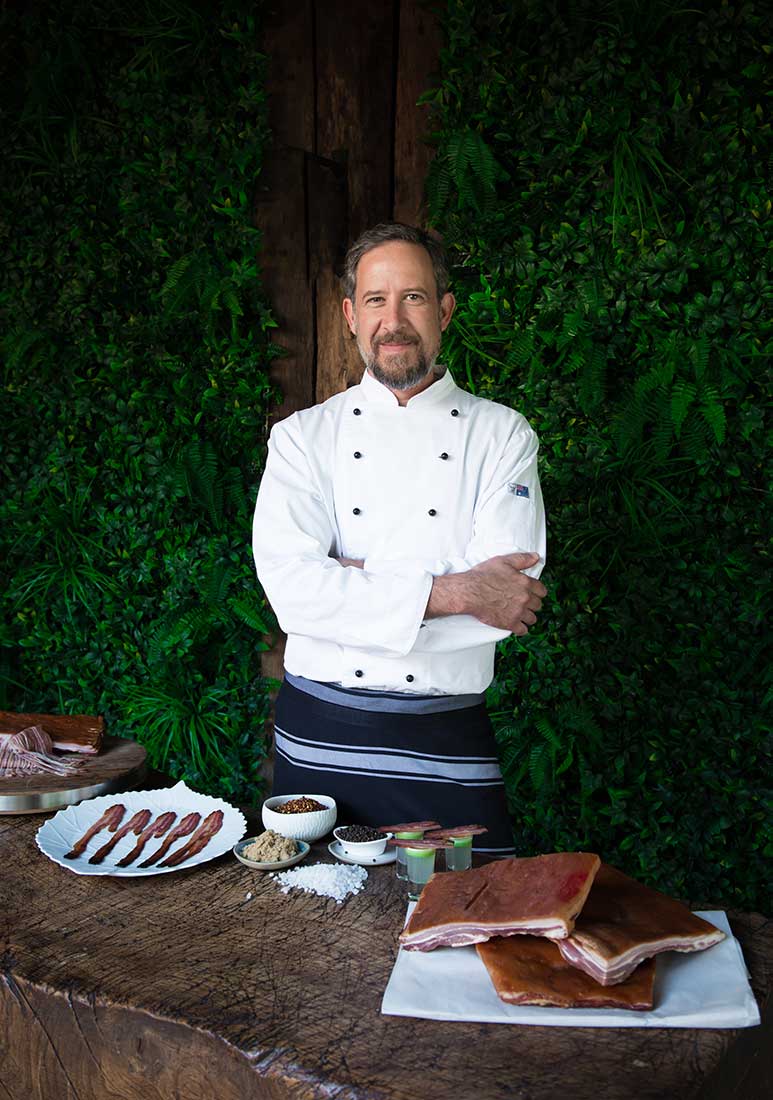 As a chef for 35 years I love to cook with my bacon. The intensity of flavour is well suited for many dishes. I love to test Voodoo Bacon in different recipes. I have found that it is amazing in pastas and risottos. I have wrapped quail in thin strips of my bacon and it was a hit! I have simmered large pieces in water to poach it and then cooked it like pork belly so that the skin was crispy and it was sublime. My greatest joy these days is to see what dishes other chefs create with Voodoo Bacon. It always surprises me how many different ways it can be used. Whenever a chef tells me he has a new dish on his menu using Voodoo Bacon, I immediately make a booking to come and taste it. Fall under the spell of Voodoo Bacon and share your experience with me. It's a taste affair that will seduce your tastebuds and you will want bacon on EVERYTHING. And that's ok, you can have bacon on anything you like… if it's Voodoo Bacon!
About the Author
George Francisco is the artisan behind Voodoo Bacon. He is also an Executive Chef that has earned seven Chef's Hat Awards with the Sydney Morning Herald's Good Food Guide, hosted an episode of SBS Food Safari and web based Foraged TV. He is the only chef in Australia to command the kitchens of two
Relais and Chateaux properties. He has owned his own award winning restaurant and café in Sydney's Northern Beaches and conceptualised the food offerings of boutique hotel brand QT Hotels. Currently when not peddling his pork (you MUST try
Voodoo Bacon
) or hugging trees, he writes for fun and The Good Guide.