Pineapple Express Cafe
Superfood Cafe | Portside
Um... heat-seeking missiles... bloodhounds... foxes... barracudas...
No this isn't James Franco from Pineapple Express the movie. Its Pineapple Express Super Food Café Located at Portside Wharf and it definitely packs a punch with its out of this world menu and stylish retro décor.
Walking in an almost life sized Volkswagen Beetle wall mural screams surfs up dude! Fresh white tiles mixed with the warmth and texture of the timber benches and leafy green planter boxes instantly makes it feel like summer surf in the city!
Straight out of the pineapple patch (AKA the kitchen) came a smorgasbord of healthy delicious meals that made my inner fitness fanatic scream with joy!
First up I was graced with the good god (of coffee that is) a delicious Campos Coffee! Cleverly laced with their ultra funky custom coffee stencils from the dust designer in the shape of….yup you guessed it! A Pineapple!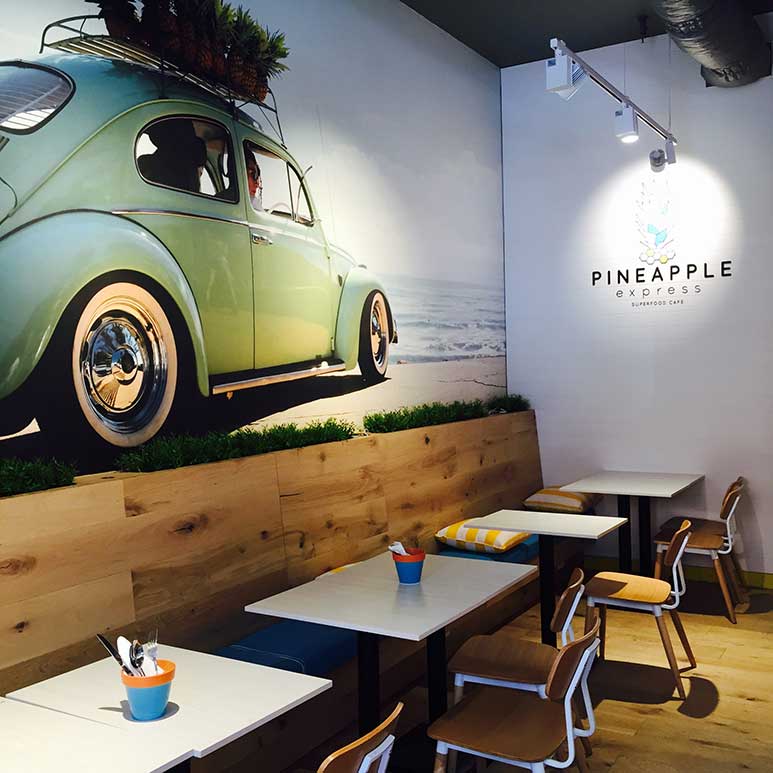 Now I know people search far and wide for a good Acai bowl but look no further than the Breakfast Acai……it's what breakfast dreams are made of! The banana, spinach, strawberries, raspberries, kiwi, blueberries, granola, chia seeds and shredded coconut not only kept me full but satisfied my sweet craving (no need for a cronut today)!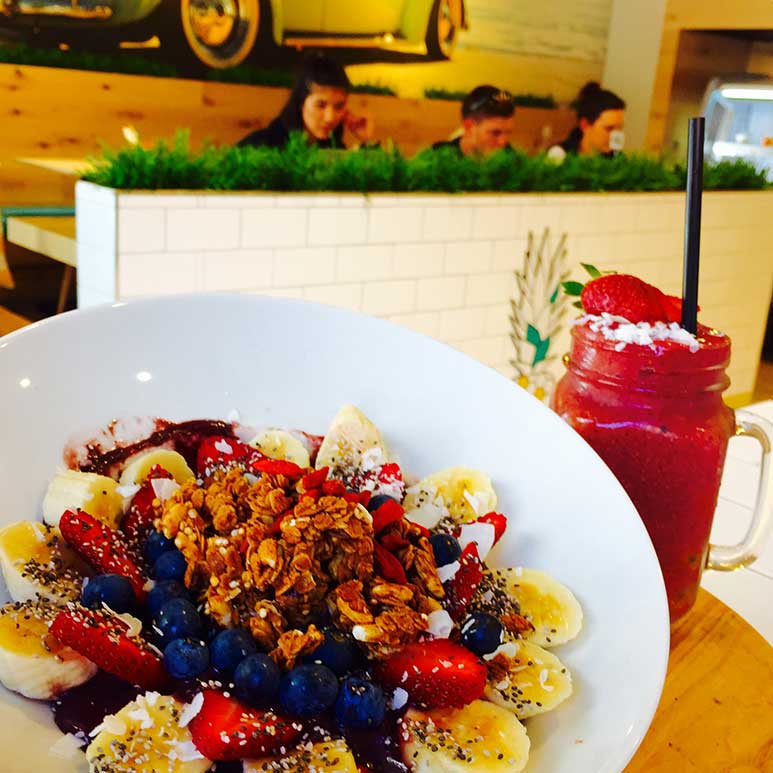 When you've heard Juan Mexican joke you've heard them all but these Organic Nachos consisting of house made guac, beef, organic blue tortilla chips, four bean mix sprinkled with kale leaves and superfood sprinkle are definitely no joke!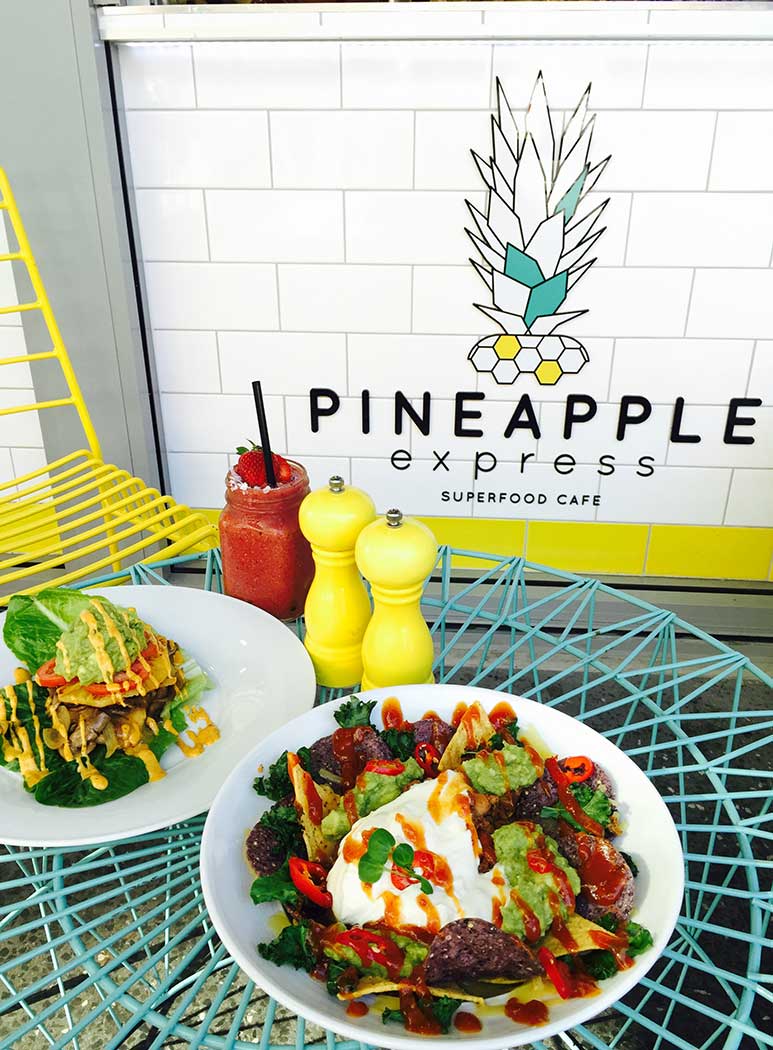 To finish up an absolutely orgasmic bio-fermented vegan Coco Whip soft serve….whip it real good! Covered in delicious raw chocolate Tim Tam and clean salted caramel sauce that would make even a grown man cry tears of joy and in my opinion the ultimate flavour combination... it was like there was a party in my mouth and everyone was invited!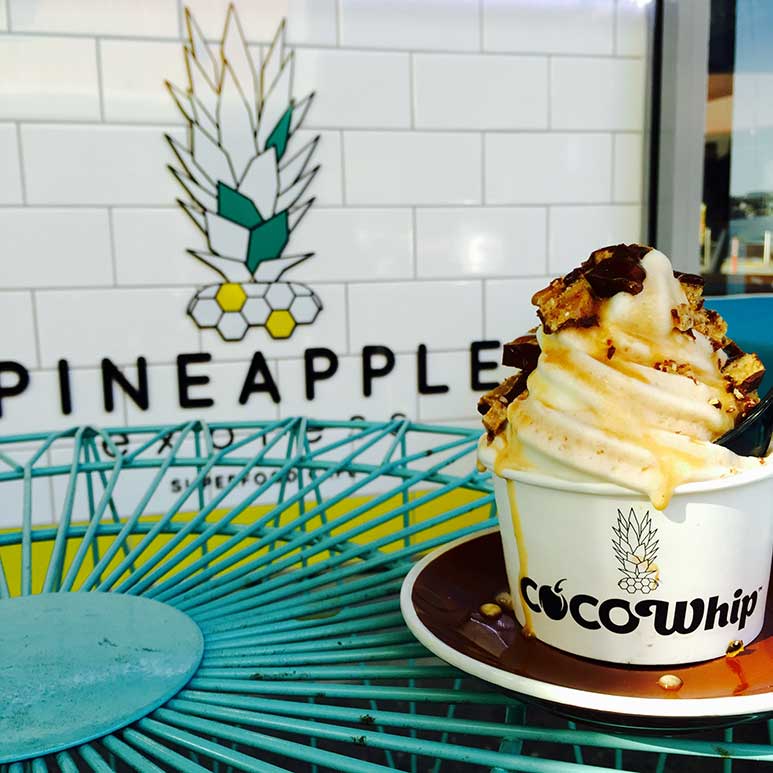 Pineapple Express is where the fun is at for fresh fare that's packed with natural goodness. Food that's good for your soul...
-
Digital ink & images by the amazing Kat Galvin
About the Author
Fashion Stylist and Social Media Solider by day and Freelance Socialite and Foodie by night! When Katherine isn't posing for a selfie at one of South East QLD's hottest events she's watching Netflix in bed with a 6 pack of the most extravagant donuts money can buy (while posing them to Instagram) It's pretty safe to say social media is her addiction……well that and a good wifi connection. ;)
Instagram: @katherine_galvin