Melbourne Cup Manual 2016
What's on your menu?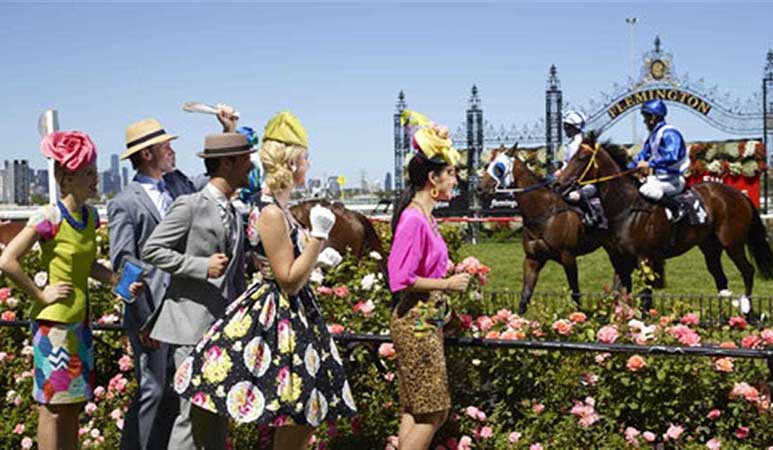 There you are, flicking through your calendar, clicking through FaceBook events pages, desperately looking, feeling deprived of that feeling you get when something exciting is coming up, you've bought your new dress, shoes, stocked up on your favourite mascara, now you're just waiting for the perfect event….it's coming. Melbourne Cup Fever has arrived, when you put a seashell to your ear all you hear is galloping hooves and the fascinators have randomly appeared outside of the box under your bed. Now all you need to do is find the perfect venue for the magical day, that's where you're covered, wherever you are, there's a Melbourne Cup event on! Here are some of the hottest events at the hottest venues in Brisbane to make your Melbourne Cup day a winner.
North
Brisbane Racing Club at Eagle Farm Racecourse
The classic option for Melbourne Cup, seeing live races at Eagle Farm Racecourse while sipping champagne and nibbling on canapés, this is the place to go if you want the full races experience. There are a multitude of packages and deals you can get ranging from $65 per person that cater to all types of racegoers, whether you want the fancy day treatment, a day of partying with your mates, or a more relaxed day with a full lunch menu and a great view of the tracks, there is a package for suitable for everyone with all venues showing full coverage of Flemington all day. Check out the packages available.

City
If you want a fancy day out with the 5 star treatment then the Stamford Plaza Melbourne Cup events are for you! You can choose between a seafood buffet lunch in The Brasserie garden on the riverside from $179 a head, a cocktail party in The River Room at $99 a head, or a 2 course Melbourne Cup Lunch in the Grand Ballroom for $139 a head, all including a 3 hour beverage package.
The Victoria Park Melbourne Cup Gala in the Marquee Room with its twinkling chandeliers is arguably the finest corporate venue in Brisbane! And they are offering a the ultimate luncheon to enjoy the Cup with a four course long table lunch, four hour beverage package, live entertainment, sweeps and raffles. This package for $149 per person is a trifecta for racing fans, foodies and fashionistas.
If you want to escape the busy city bustle for the day, what better way to escape than to literally sail away on a boat cruise with Kookaburra Cruises? They have a special Melbourne Cup Day cruise which includes a three course lunch and live music, and you'd better dress to impress to have a go at winning the 'Fashions on the Deck' competition. Deals start at $99 a person, with drink package optionally added on.

The Valley
Gerard's Bistro is back at it again this year with a Melbourne Cup 2016 exclusive race day event offering a five hour package with canapés, drinks, fashions off the field, live entertainment and DJs from 11-4pm. This is where to go if you want a classy but relaxed afternoon with friends where you can chat and still enjoy the races from the television screens. Price: $220 per person.
Melbourne Cup day at Up on Constance is perfect if you want a laid back day with friends or family, the bar is putting on a Rooftop Garden Party themed Melbourne Cup with the whole package; food, drinks and entertainment from 12:30 to 4:30. With a glass of Chandon on arrival you can enjoy a day lounging about on the couches or grooving on the dancefloor to the live music, either way, it will be a good time
For the second year in a row, Dutch Courage is hosting Brisbane's only gin-themed Melbourne Cup party in Brisbane with their Hendricks Gin and Gallops 2016 Melbourne Cup celebration. This event covers all bases: live music, cool cocktails, delicious food, best-dressed prizes and a Melbourne Cup Sweep of course! This is one of the more affordable events held in the Valley with $89 early bird tickets and $99 general sale, so get in quick to make the most of this opportunity.

South Bank/West End
Rydges Hotel hippest and coolest bar is home of Brisbane's most chic Melbourne Cup event, The Soleil Pool Bar Melbourne Cup Garden Party. This is one more suited for the younger generations looking to enjoy a fun party in between watching the Cup. For $129 a head is an afternoon of lawn games, live entertainment, fashion on the field and many visits to the 6 premium pop-up bars available all afternoon.
The hidden gem of West End is Loft and they're offering A Day at the Races from 12pm onwards. This event is the ultimate day at the races without actually being at the races, starting with a 3 hour beverage package and canapés followed by a 2 course sit down lunch, raffles, race sweeps and of course a series of prizes for best dressed all in a spacious setting accompanied by a live jazz band. With early tickets for $85 per person, this event should not be missed.
About the Author

I have a serious wanderlust that needs to be fulfilled, but until then I am spending my time discovering Brisbane and all it has to offer. I love picnicking in parks, wondering through markets, reading Harry Potter, and stalking people who have any pet that can you can pat. I would love to spend all my time going out and eating different foods and trying every restaurant, café and bar in Brisbane but unfortunately uni, work and my lack of funds deprive me of my dreams at this point in time. I love tea and coffee and can often be seen taking advantage of the free testers at T2, or basically at any place that is offering free testers. I love going out and having fun with my friends on weekends (and sometimes weeknights), but I also rely on alone time to keep my sanity and be able to fully relax and contemplate life.