Brisbane's Best Burgers
Presenting the Triple B: Brisbane's Best Burgers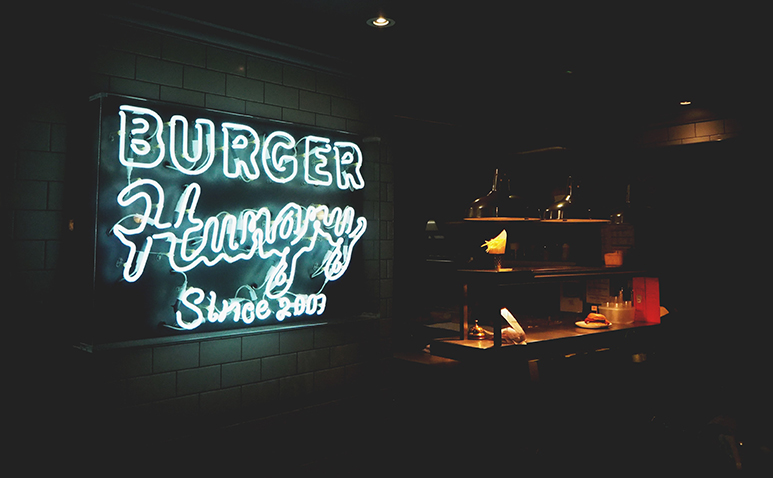 'B' for Brisbane, 'B' for burgers. Think you've had them all? Think again. Appetising creations lurk around our entire city, waiting to be discovered and devoured. With these top selections in Brisbane, be ready to get down and dirty, with oodles of sauce dripping past your wrists, and be rewarded with satisfaction so great, it'll plaster a huge grin on your face.

A boutique burgers, beer and live tunes joint like no other. Are you up for The Big Kay's Challenge? 5 beef patties, 5 slices of cheese, 2 servings of dirty fries and 15 minutes to smash it down - will you be a Wall of Famer or a Wall of Shamer? Try the M.K. Special, because the best things in life are messy!

Good food and sustainability is in Neil Perry's DNA, and Burger Project shows off fast food with slow food values. Burgers are made with fresh produce and Cape Grim grass-fed beef. With a commitment to quality and taste, what's not to love? Best served with crispy chips and house churned shakes, Burger Project is sure to satisfy your growling stomach.

Enjoy burger loving fun with tongue-in-cheek references and witty wordplay, you might just chortle while ordering. Careful, Doughnutfukwitdis, a wagyu beef patty burger loaded with nutella smoked bacon and double cheese smooshed between a grilled Doughnut Time glazed donut will blow your mind. Killer burgers, quality craft beer and some tip top beats.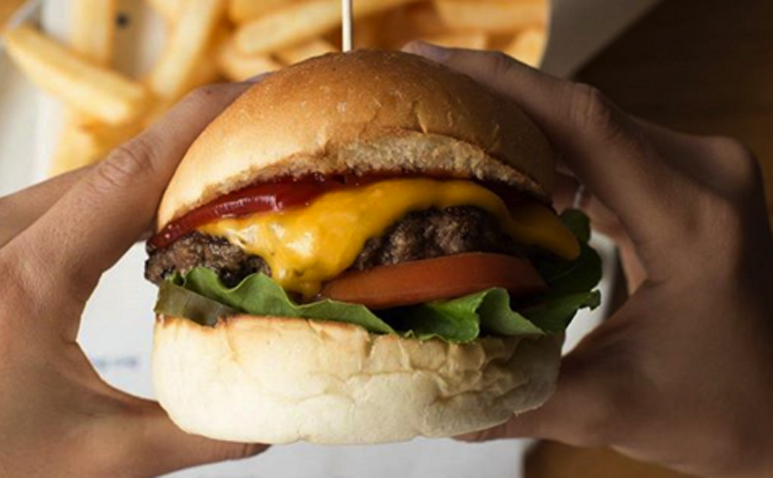 Cheesey perfection with the best burgers (add the candied bacon), milkshakes that bring all the girls and boys to the lane, and tasty fries... yes please! Try the breakfast burger. Hot tip: stop what you're doing - this is dinner. ORder in or get Uber Eats to deliver; either way, you're getting a whopper of a meal!
Fritzenerger lives up to its name; frites and burgers, brew and pub. Classic burgers rebuilt with locally sourced ingredients for maximum taste - and wash it all down with a hoppy brew! Quench your thirst and feed your soul with a flavourful punch of goodness. Looking for a regular burger joint? The choice is pretty Fritzensimple, really!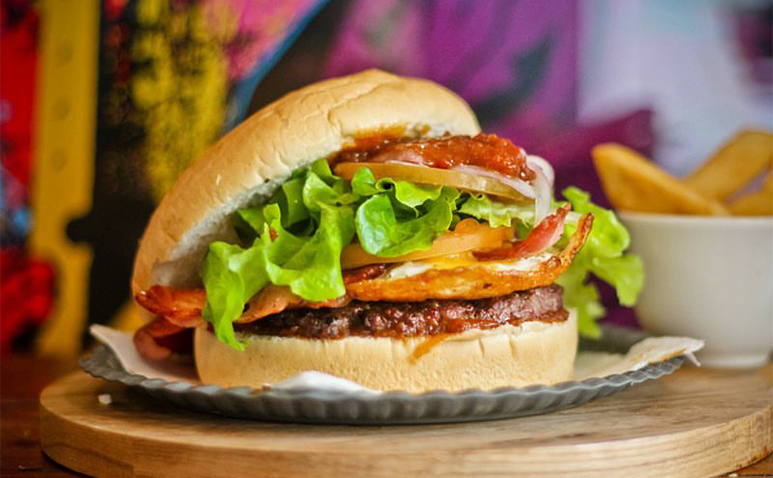 Introducing DA'Burger, Brisbane's answer to mankind's quest of finding the Krabby Patty equivalent. As you chow down on their burgers, the perfect collaboration of meat, fillings and their signature homemade relishes and onion jam will have you declaring this is DA'Bomb diggity! With burgers the size of your face, you could even stash the other half for supper (double the enjoyment… we totally approve). Drawings and messages by customers adorn the walls and even ceilings (a mystery in itself), giving the place a truly unique and artistic feel. Akin to how Taco Bell encourages satisfied customers to ring their bell, DA'Burger welcomes your colourful addition of graffiti to their walls.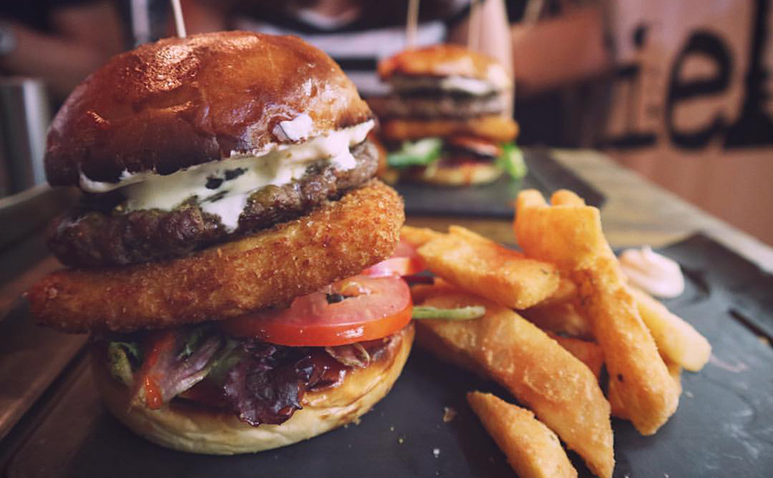 If you're a selective eater or just someone who prefers to have control over what goes in between your burger buns, Miel Container is the ideal spot for you. Housed in a red shipping container, DIY burgers are a hot favourite amongst customers at this Korean-owned establishment. The endless lines at lunchtime speak for itself. Upon deciding between the brioche and ciabatta, pair your meat of choice (we adore their grass-fed beef patties!) or vego patty with a selection of three veggies, gourmet cheese and two sauces. Featuring an extraordinary range of options, you'll be in a dilemma over what you want. Stack them high with an addition of huge onion rings on top, and feel like a champion! Oh, and don't forget their amazing beer battered chips… guilty pleasures indeed.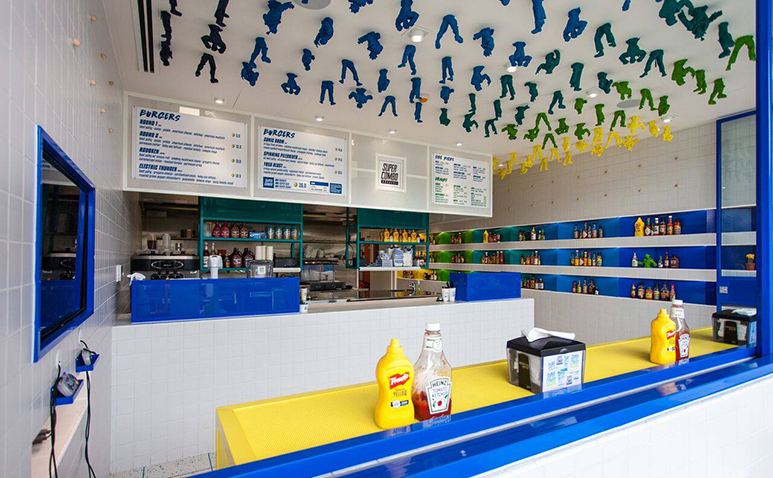 One-two-three, fight! This 90's gaming-themed establishment based off Street Fighter will impress arcade game enthusiasts of all ages. It's high-tech meets old school, where creativity and nostalgia weld together as one, bringing about cleverly named burgers and an ode to deliciousness! The burger alone will throw a punch so great that you'll be weakened by the prowess of the elements within the mighty burger (The Hadoken scores big with us!). An eye-opener is their premium sauce wall display, featuring out-of-the-world elixirs that come at a small price of two dollar per 'hit'. The final blow will be delivered the second their 'side kicks' come into play, the worthy contender being their undefeatable crispy hand-cut fries. It's officially game over… a complete knockout!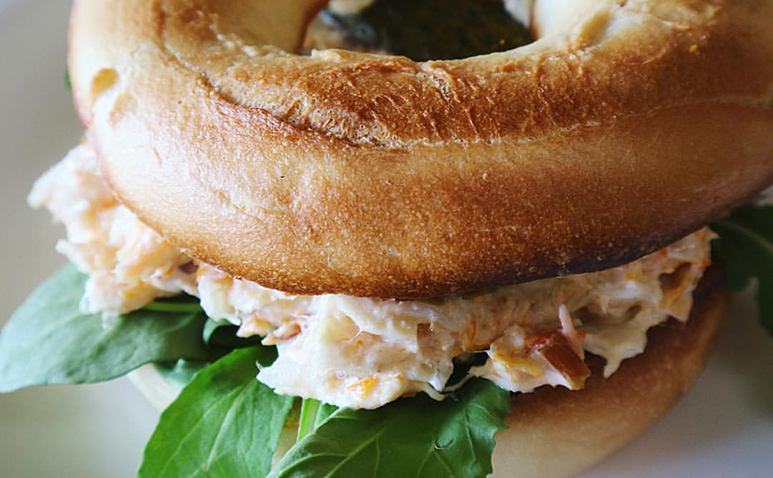 At Scout, they do brilliant bagel burgers. Not the typical cream cheese schmear, lox or two, but full-on stacks with an incredible range of fillings. Just imagine the humble bagel in the form of an anagram, where the friendly folks at Scout are the geniuses who solve it by dishing out creative combinations that are simply remarkable. Come in any day for a morsel of their rotating specials – the smoked cod and salmon they do on Thursdays is absolutely life changing! Even if you're a regular, boredom is not an option, as they're known to change up their menu every season – an even bigger reason to revisit. The rustic-chic interior makes for a cosy atmosphere, where you can chat for hours on end with friends – there's even an espresso bar to boot!

Sink your teeth into food truck haven at Micasa, an all-American-style burger joint! Bringing oodles of goodness to markets all over Brisbane, those who love to gorge themselves on a burger with all the works will gasp at the amount of ingredients stashed between the buns. Just picture this – onion rings, breaded mozzarella sticks, double patties and ooey-gooey cheese… the list just goes on! Micasa's menu rotates regularly, so we reckon you'll never get bored. Rolling around town in an American Retro themed van, you certainly won't miss it!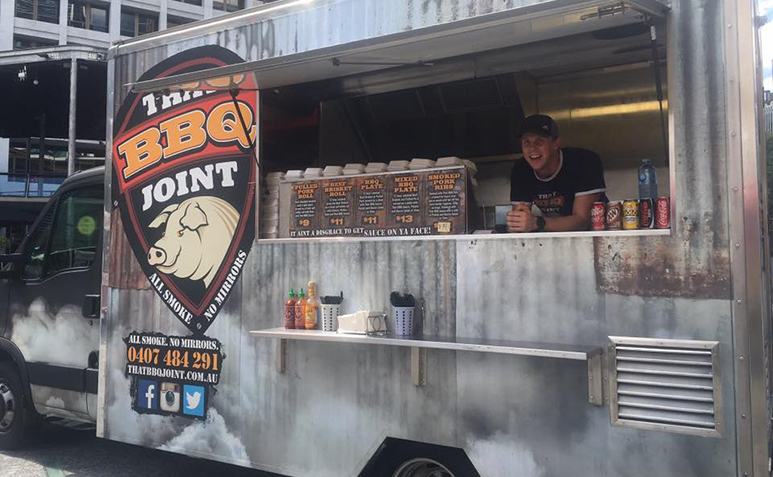 Holy smokes, yes – That BBQ Joint. Another food truck that's garnering a loyal following, the folks behind this American barbeque joint serve up juicy wads of beef brisket and pulled pork sliders that will tickle your fancy! A crowd favourite at That BBQ Joint is the beef brisket slider, which contains thick, generous slices of their 12-hour slow cooked beef brisket and melts like butter in your mouth – a sensation so relieving it'll put you in a state of euphoria as you work your way through! Compete with your friends to see who can get the biggest bite out of their burgers – they're so huge, that amount of jaw action warrants enough exercise for the week.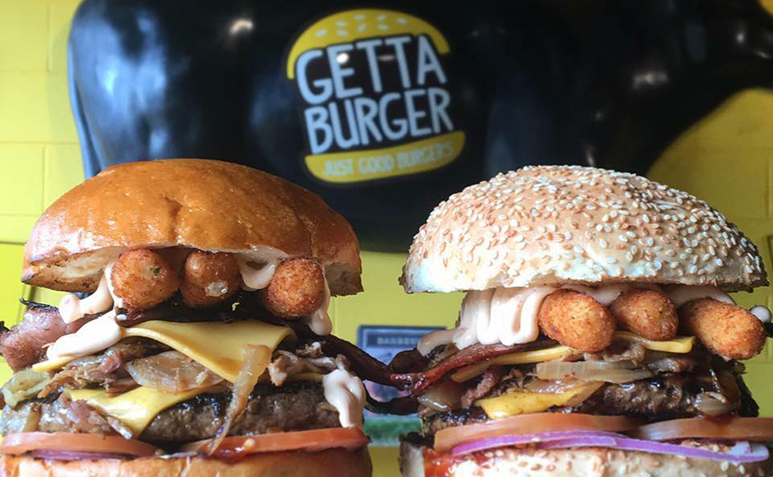 Got the cravings? Gett-a burger. If you're looking for the ultimate place to savour your well-deserved cheat meal, you've come knocking on the right door. At Getta Burger, there's no such thing as holding back – they unapologetically dish out burgers that are so filthy good, with copious amounts of fillings that will trigger a lecture from your dietician (shhh… just keep it a secret). Go in for the kill with Getta Filthy – a burger with beef patties, brisket, bacon, pulled pork, double cheese and oh my god, hold me… fries. So dirty, but so delicious! Veggie lovers, this may not be something your alley, but hey, it's one hell of a burger to tick off your bucket list! They also feature weekly specials, so you'll never grow weary of chomping through their burgers.
Who said burgers were only found in Western cuisine? Changing up the burger game is the Vietnamese staple, bánh mì, a French baguette toasted to perfection. For those who prefer healthier options for burgers, you've come to the right place. Their all-time-favourite, the 3 Little Piggies, is filled with barbequed pork, porchetta and Vietnamese ham – triple the pork, triple the yumminess! Aside from their scrumptious meat and vegetarian options, in every bánh mì lies a generous bedding of fresh carrots, daikon and cucumber, spread with their in-house mayo and pâté, topped with cilantro. If you're a spice goddess, go ahead with the addition of fresh red chillies! Both refreshing and delightful, Mrs Luu's will definitely not disappoint.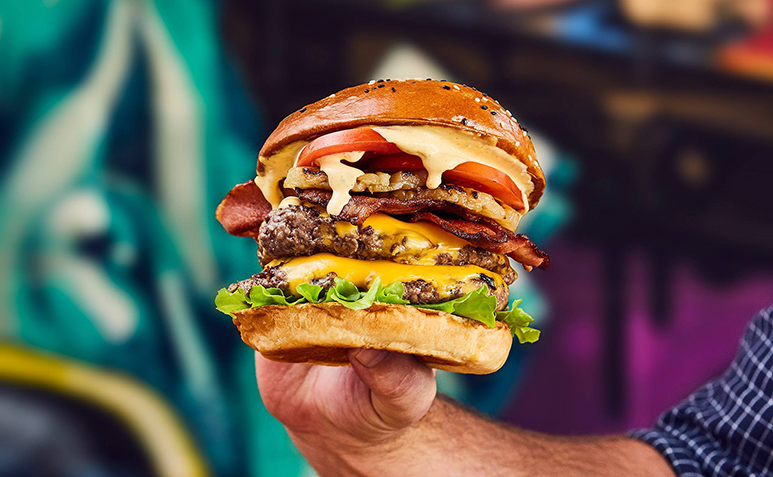 Lights, camera, and action! Park your bottoms at Brooklyn Depot, where burgers meet all that fancy schmancy dazzle. At this American-style boutique diner, their establishment resembles the artsy dining scene in Brooklyn, New York. With indie music and art décor in tow, these classy yet appetising burgers are sure to impress your significant other. Truffle mayo, house-special slaw, hickory-smoked bacon and lethal hot sauce are just some of the unique fillings on offer in their range of delightful burgers. We dare you to go with the highest level of hot sauce, or just Fuhgeddaboudit! Make your visits monthly if you like change – they've got limited edition Burger of the Month specials in store for diners like you! Believe us, you'll want to be stationed here for the longest time.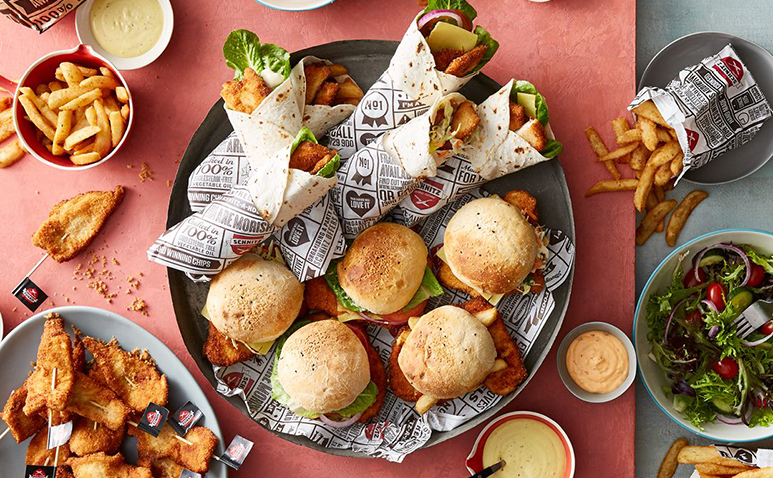 One schnitzel to rule them all! Just one bite of their signature schnitzel burger rolls or wraps will have you salivating for more. Priding themselves in the art of handmade and pan cooked schnitzels, Schnitz is a delectable alternative for days when meat patties have lost their charm. Boasting a menu filled with cleverly named schnitzel varieties, meat, seafood and vegetarian lovers alike have the opportunity to sample everything in the menu. Double the happiness with an order of their signature thick chips, which come seasoned in a slightly spicy concoction, and delivers an unbelievable crunch of all sorts!
About the Author

A bubbly Singaporean writer who's obsessed with all things nommable, and an absolute sucker for bubble tea and coffee. Also known to make fun out of the mundane situations in life – like creating words out of car plates.