Behind Bon Maxie
Local Designers | Meet Clare Spelta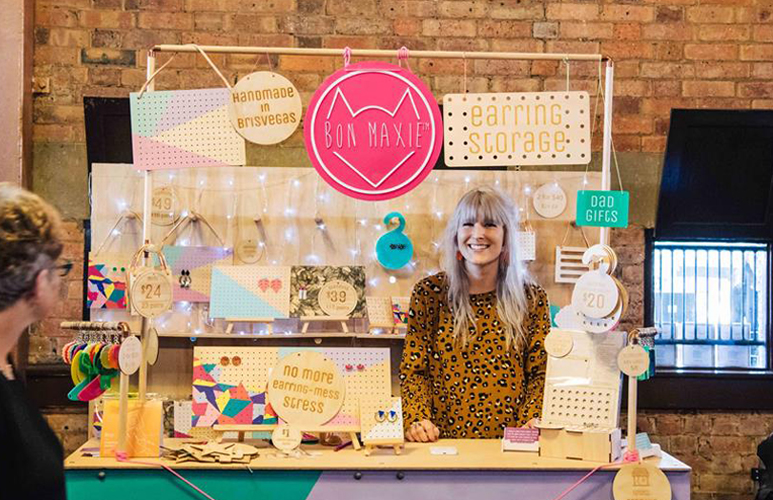 From the 7th-10th of June, Indooroopilly Shopping Centre will be holding the much anticipated Best of Brisbane Style & Design Market! Introducing Brisbane's Queen of keeping your accessories tidy and looking fabulous, the one and only Clare Spelta from Bon Maxie.
As an artist, owner Clare Spelta started Bon Maxie as a custom-portrait and art print business while on maternity leave. It quickly evolved after she realised she was overly stressed, mainly due to earring mess, and so she created herself an earring holder. Realising there wasn't anything at all like this earring holder on the market—good looking, wooden, catering for both stud and dangle earrings, and colourful enough to fit in with different styles—she posted a picture on Instagram which quickly started an anti-boring earring holder craze around Australia.
NAME: Clare Spelta
NICKNAME: Clarey (really hard to get a good nickname from Clare!)
JOB TITLE: Head Honcho
VENUE: Bon Maxie – Saying 'no' to accessory-mess stress with anti-boring earring and accessory holders
WEBSITE: Bon Maxie
Facebook |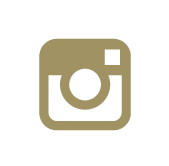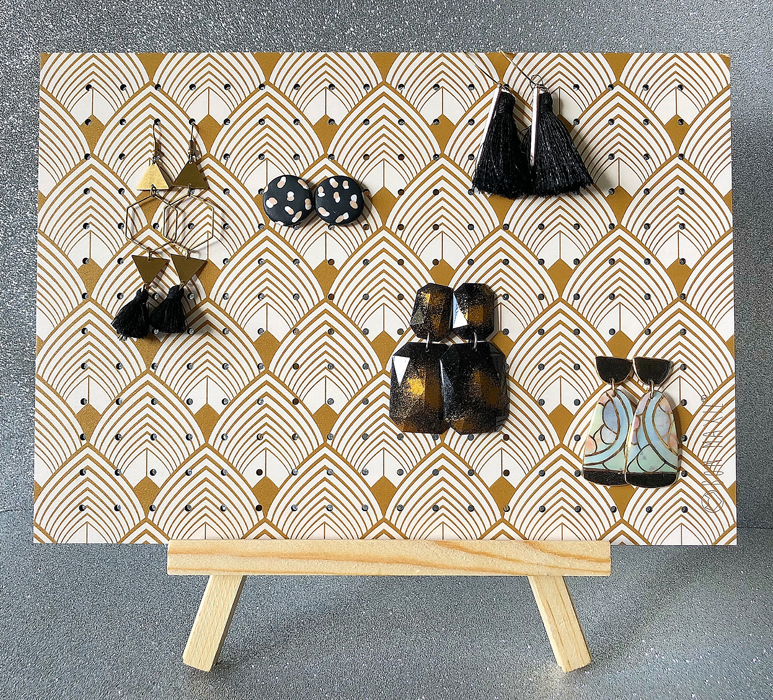 WHAT DO YOU LOVE MOST ABOUT WHAT YOU DO? I am my own boss, so every day is different. I can be creative AND earn a living. I never thought I'd be able to do that. I also get to spend a lot of time with my son 😊
DESCRIBE A DAY IN THE LIFE OF YOU? It's usually an unwelcome 5.30am start (child), then coffee happens and it's a bit crazy until my son's nap time or he goes off to his grandparents'. Then it's generally social media checking, a fair bit of admin (night-time computer use is horrid and makes me fall asleep). My husband is head order packer and I might build some products, but post-dinner is generally our main order-packing time.
WHAT ARE YOU PASSIONATE ABOUT? I'm SO passionate about being a nice person and being original. There's too much nastiness going on (esp. on social media) these days and nice people and original ideas stick out in the best way possible.
WHAT'S YOUR LIFE PHILOSOPHY? To be interesting and be interested.
5 WORDS THAT DESCRIBE YOU: Creative, persistent, loving, vulnerable, protective.
WHAT MAKES YOUR BRAND UNIQUE? I'd love to say that Bon Maxie has made stylish earring organisation popular! I never could be a monochrome brand as I truly believe colours make you feel, so the combination of accessory holders and happy colours and styles is something that is unique!
THREE PEOPLE (DEAD OR ALIVE) YOU WOULD INVITE FOR DINNER PARTY? Richard Branson would be cool to chat to. Ellen DeGeneres–you can tell she's just the most incredible person. JK Rowling—she's got such an amazing story of overcoming hardship and getting on with making the best of a situation.
WHAT MADE YOU INTERESTED IN THIS EVENT? I've always wanted to do an in-centre pop-up because a shopping centre is SO different to markets or online shopping. I love being able to get in front of my customers and just have a chat! And nothing better than getting to do that alongside some fabulous Brisbane brands.

WHO'S YOUR INSPIRATION? I think I take a lot of inspiration from various entrepreneurs. I always think – if they can do it, I can too. But probably my son – he's been dealt a tough card with his health, and yet he's overcome odds and is walking and babbling and continues to do things I didn't expect he'd be able to. That kind of determination I'd love think he learnt from me, but I think he's the one pushing me to be determined.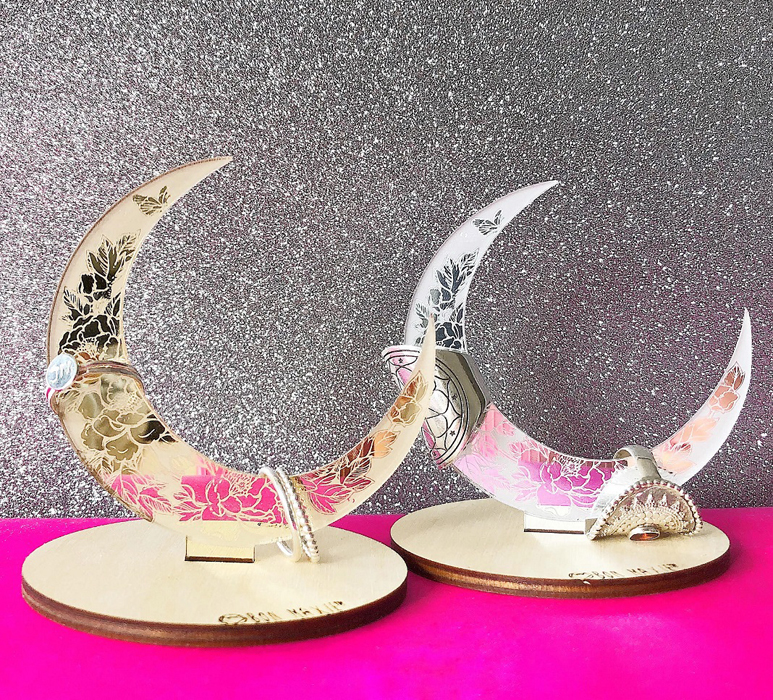 IF YOU COULD MEET ANYONE IN THE WORLD, DEAD OR ALIVE, WHO WOULD IT BE? Wouldn't mind saying a quick hi to Chris Hemsworth 😊
WHAT BRINGS YOU THE GREATEST SATISFACTION? A happy customer who goes out of their way to tell me they're happy. It's the BEST feeling. I have counted up all the earring holders we've posted off since I started the business, and we've helped organise over a million pairs of earrings, which is pretty cool!

WHAT IS THE BEST ADVICE YOU'VE BEEN GIVEN? There is ALWAYS a way.

WHAT IS ON YOUR BUCKET-LIST? The Northern Lights. Hearing my son talk!
WHAT IS YOUR GREATEST INDULGENCE? Chocolate. There's an Italian brand of chocolate biscuit that I've just discovered and it's HEAVEN.


WHAT IS THE BEST GIFT YOU'VE EVER RECEIVED? My mum told me she'd take me to an expensive hairdresser to fix my hair after I got a shocker of a style from a 'progressive' international hairdresser during a hair expo. That was a really, really good gift.

WHAT IS THE ONE THING POPLE WOULD BE SURPRISED TO KNOW AOUT YOU? I'm not blonde! Haha – I spent 3 years living in Japan as a child and was fluent in Japanese but couldn't speak English.

WHAT IS THE ONE THING YOU WISH YOU KNEW WHEN YOU WERE YOUNGER? That it really doesn't matter what degree you do at uni – if you've got the drive to, you can do what you want to do. That bad times always turn into lessons.
WHERE IS YOUR FAVOURITE HOLIDAY DESTINATION? : I do love a good winter holiday anywhere cold, like Japan. Something about walking outside and being hit in the face with cold air! In saying that, we've had some fantastic times at Brunswick Heads.
FAVOURITE PLACES IN BRISBANE :
EAT: Thai Antique in Carina
DRINK: At home on the couch!
CHEF: As in a favourite chef? I don't think I'm cultured enough!
RELAX: On the couch. Ours is rarely used, so it's a real treat to lounge on it.
SHOP: A good DFO session ain't bad, but good old Carindale serves me pretty well.
TO IMPRESS: Cloudland is pretty impressive, though I haven't been out in years!
CULTURE/ARTS: GOMA
EVENT: Finders Keepers Markets!
SUNDAYS: At home on the patio or a stroll along Wynnum/Manly foreshore.
BRISBANE'S BEST KEPT SECRET IS: Camp Hill Bowls Club!! Great for laid-back catchups – plus drinks at 1970s prices!
NEXT EXCITING THING FOR ME IS: We have Finders Keepers in late June then I have a few new product releases leading up to Christmas include a bigger travel earring holder, my first foray into a minimalist style accessory holder and a few more fun things!
MORE: Looking to move to a larger space for the business!